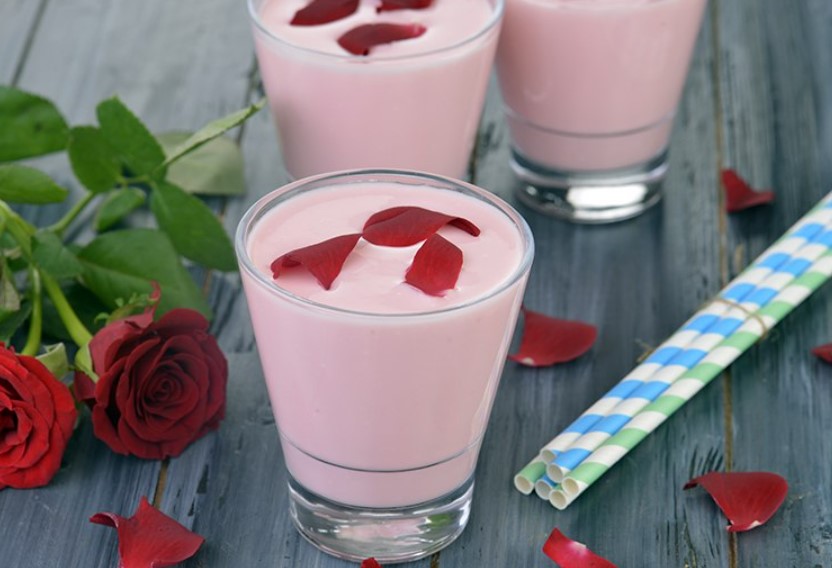 Consuming beverages containing rose petals or rose essence has been known to provide a lot of health benefits. Antioxidants called polyphenols found in rose petals help protect the body from cellular damage. These substances further lower the risk of diabetes, obesity, heart disease, etc.
Here are refreshing rose petal beverages that are good for your health.
Rose Milk
If you were thinking that milk is best to drink only at bedtime or breakfast, then you're wrong. Rose-flavoured milk is equally perfect as a refreshing summer drink served chilled! For a hundred per cent healthy beverage, choose only the ingredients that are natural and free from chemicals, artificial colourants and flavours.
Rose milk is very easy to prepare in just 5 minutes. Simply gather the following ingredients on hand – rose petals, milk of your choice, rose essence, agave syrup, dragon fruit powder and pink pitaya powder. Combine them all together in a pitcher then whisk until big clumps of the powders disappear. Then again, it's still perfectly fine to see some specks of the fruit powder. Chill. When serving, make sure to garnish rose petals over your milk that's been poured into a serving glass.
Rose Soda
To really have a cool refreshing drink, you need some ice with this beverage along with rose syrup, lime juice and sugar. Mix all of them in a pitcher and whisk until all of the sugar is dissolved. Adjust the amount of sugar to suit your taste.
Prepare 4 glasses with ice cubes and pour the rose mixture into equal parts. Pour club soda on each glass and squeeze some lemon on top for a lemony kick. Fresh or dried rose petals can be used as a garnish. Serve immediately. If you want more flavour, toss some mint leaves into your rose soda.
Wild Rose Petal Sangria
Another tasty and energising floral drink, the wild rose petal sangria is excellent to quench your thirst during summer. You'd be proud, too, to serve the beverage on special occasions such as showers or wedding parties or even simple brunches.
Be sure to use only the domesticated roses that have not been treated with chemicals or pesticides if you cannot find the wild rose variety. Or if not, look for food-grade dried rose petals for this thirst-quenching drink. There are legit online shops that sell genuine organic dried rose petals.
To make the beverage, you need to prepare the syrup beforehand by simply soaking the rose petals in water overnight for a more flavourful drink. The following day, simmer the rose petals in water with sugar and lemon juice, stirring well until the sugar is melted. Remove from heat. Set aside in a cool place for 24 hours. The longer the rose petals are steeped, the 'rosier' the flavour. When it's time to use, strain the syrup.
Now, in a large pitcher, combine all these ingredients – wild rose petal syrup, rose wine, elderflower liqueur and fresh wild rose petals. Refrigerate for 2 hours. When serving, pour into an ice-filled glass and garnish with fresh rose petals and mint leaves for that added taste.
To avoid health risks, choose only what's natural. Find authentic rose petals for sale from this link.
Related Posts